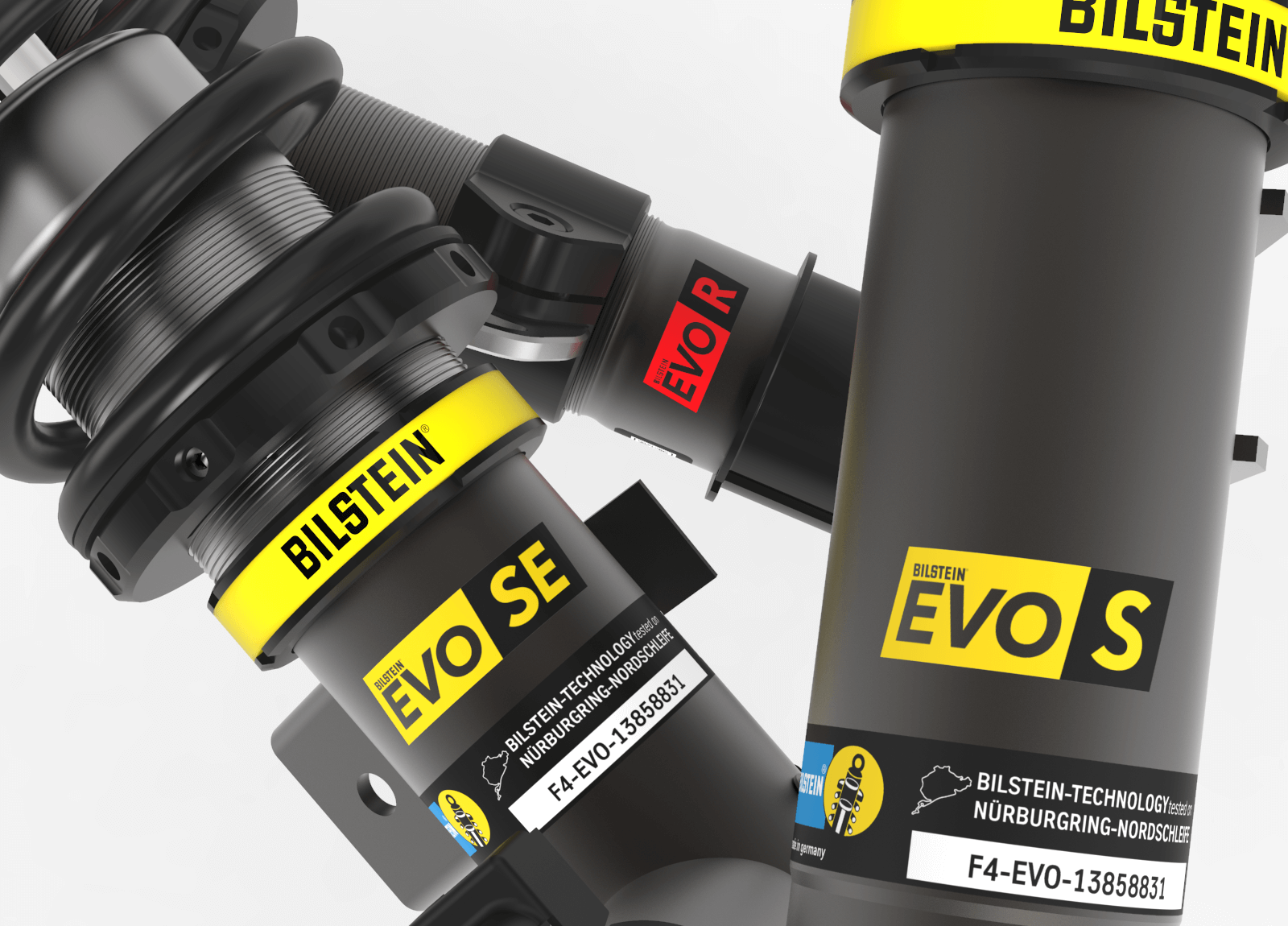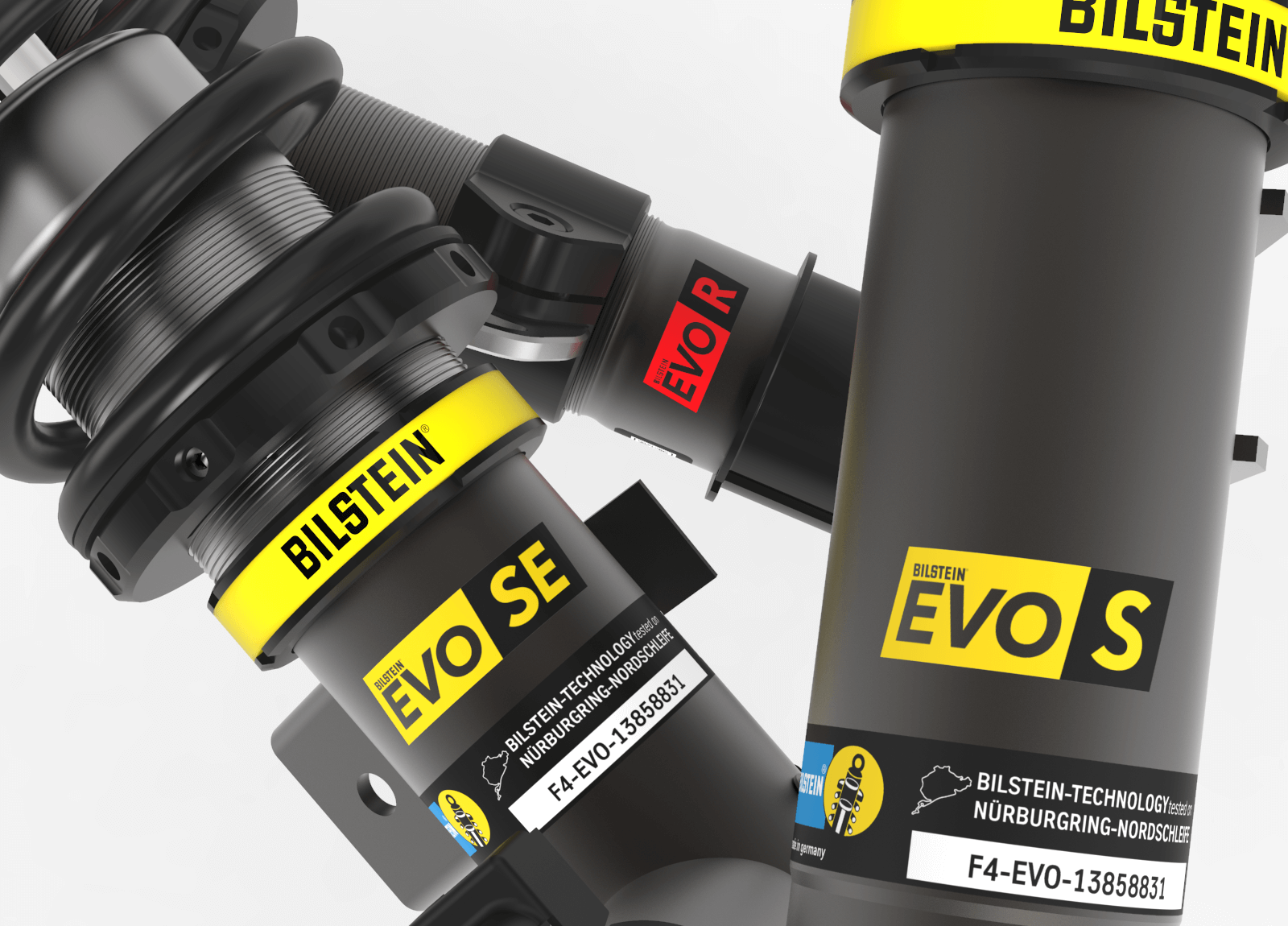 New design and even more driving fun
For the perfect driving experience: The new BILSTEIN EVO coilover suspension line
An irresistible design, even more performance and maximum durability: With the BILSTEIN EVO Performance Line, we are presenting our brand new performance coilover suspension generation in 2020.
Three completely newly developed threaded suspension systems will complement the existing BILSTEIN range: BILSTEIN EVO S, EVO SE and EVO R. During the development of the BILSTEIN EVO Performance Line, our engineers and designers focused in particular on uncompromising performance, maximum durability and exceptional visual appearance.
Our performance coilover suspensions have a trendy matt grey colour and look quite different than other coilover suspensions. All true enthusiasts of driving dynamics might even admire them like gems.
Despite all its beauty: At the end of the day, the suspension must perform on the road or on the racetrack. With the further developed internal fixation of the one-piece spring plate, we were not only able to achieve a maximum lowering of up to 70 mm and further weight savings, but also even better handling. An extremely resilient construction in combination with a newly developed coating also guarantees maximum durability.
Since tuning fans, trackday drivers and racing drivers have different demands, we also tune all EVO Performance coilover suspensions in the BILSTEIN driving test to the different general conditions and requirements: Three new, perfectly tuned performance coilovers for every application leave nothing to be desired:
Our street performance suspension BILSTEIN EVO S not only lets you look good, but also lies deep, well-set and agile on the road. In addition, it ensures greater safety at the limits, higher cornering speeds and stable traction.
Your vehicle has a factory-installed adaptive suspension and you want to keep these features? No problem. The BILSTEIN EVO SE street performance suspension connects 1:1 to the electronic control system of your vehicle and can be installed using the plug-and-play process. Just like the EVO S, the EVO SE also allows for higher cornering speeds and stable traction.
Our race performance suspension BILSTEIN EVO R is just right for the tough use on the race track! With our 10×10 Pro-Click-Adjustment you can adjust the bump and rebound stages separately and thus have a damper setup with 100 adjustment possibilities. You can adjust your setup with two aluminium adjustment wheels and 10 perceptible clicks when it is installed without having to jack up the vehicle. Our BILSTEIN EVO R stands for highest cornering speeds, brute traction and best grip.
All tuning kits introduced from 2020 onwards will appear in the new EVO Performance Line.
Experience the street like never before
We combine the best technologies, components and parts for you and your requirements. The same ones that we develop and test for our customers such as Porsche, BMW or Mercedes-Benz and bring them to perfection in our BILSTEIN driving tests under motor sports conditions.
BILSTEIN Street Performance